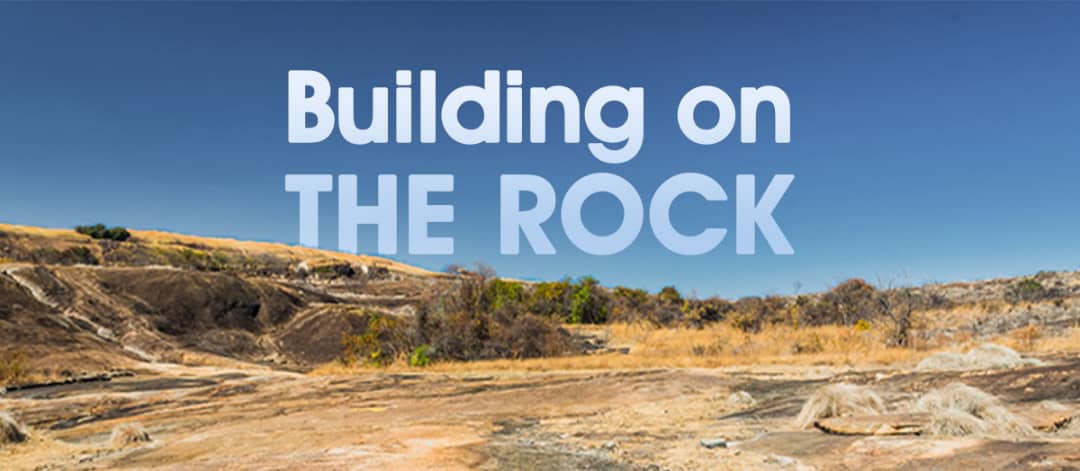 Receiving God's word deeply into our souls is the absolute bedrock of living the life God intends for us. There is no other bedrock. It is the basis of genuine faith and every work of the Spirit.
Just like us, Jesus learnt to speak, read and live God's word – he laid aside his omniscience and chose to learn. Just like us, His love relationship with the Father and the Spirit was nurtured through his delight in the scriptures. When Jesus' parents were looking for him he replied 'Why are you looking for me? Did you not know I had to be in my father's house?'
 Jesus' delight in God's truth was not in head knowledge which puffs up nor in dead religion which ticks a box.  His delight in God's word was in its unique ability to draw him into fullness of relationship.  We are invited into this same depth of relationship through the same word of God as Jesus read plus, for us, the New Testament account of Christ's life among us and all that flowed from that.  The very same words that Jesus received to grow in love for God and others are the very same words we read for our growth in love for God and others.  In reality, God's love letter to the incarnate Christ is the same love letter to us.  What a Wonder!
Jesus modelled how we are to live and says 'He who HEARS these words of mine and DOES them is like a man who built his house on the Rock.' In other words, our knowledge of the scriptures is the very basis of the most fulfilled and fruitful life we could ever live.
For those wanting to build their lives on this rock of love and fulfilment, it is vital to note that hearing God's word PRECEDES doing God's word. Although this may seem obvious, many of us try to live well but with little intentionality to truly 'hear' God's word. Could we say that we are really 'learning', 'studying' or 'meditating on' God's Word as a lifestyle? The truth is that growing closer to Jesus and accomplishing his purpose for our lives is impossible without a radical, consistent commitment to handling God's word correctly. (2 Tim 2.15)
Wonderfully, there is a growing intensity of delight in the Scriptures being expressed across River of Life. The Alpha Course, the translation and embracing of Alpha in Shona, the Minor Prophets series and the huge response to the Bible Journey opportunity are all examples. Many people express to me how much they are loving reading their physical Bibles and making notes in margins etc. Many describe that they are more regularly in God's word and prayer with more sensitively to God's Spirit.
In light of all this we are proposing the following approach to strengthening River of Life in God's Word as we approach 2022 :
– Sustained encouragement to everyone to be part of a SMALL GROUP. This is a vital connection for inspiration, encouragement, accountability and growth in God's word.
– Sustained encouragement to SUNDAY MEETINGS. We will continue to prioritize the preaching of God's word through the online platform of ROL2Home, and we are hoping this will link in to an increasing expression of In-Person corporate meetings, starting with the Sunday Worship Evenings in October.
– Sustained encouragement to everyone to DAILY BIBLE READING. Like our daily bread, or our daily bath, the Word of God is spiritual bread and water. There is something immeasurably healthy in being in God's word DAILY. Margit Landman is doing some research on best Bible Reading plan and devotionals. We will presenting these to you as a package during October which will enable you to try out various options ahead of 2022.
– Special opportunity of the BIBLE JOURNEY in 2022. This is a formal Bible study that takes you on a literal journey through the Bible from Genesis to Revelation. It is superbly structured and presented by Gordon Conwell Theological Seminary as an Old Testament and New Testament survey covering 6 modules, each of 7-8 weeks, with an expectation of 2.5 to 3.5 hours study per week. The course is fully certificated for complete attendance with no exams or submissions. With the amazing use of multimedia resources, everything you need is online and timed to be able to take you an average of 30 mins per day, Monday to Friday. We have the opportunity of receiving a free annual pass (value USD149.99 each) for 150 participants who sincerely commit to complete the course in the year. As a result of this we have the following plan of action for BIBLE JOURNEY :
– Sept to Oct – Register your interest by clicking on Bible Journey in the Church Suite App or Website. Alternatively via whatsapp of name, cell number and email address to the church phone 078 391 0799
      – October – try the free trial here during the month of October.  Make sure you can commit to the course starting Jan 2022.  
      – November – formal commitment.  There will be an online commitment to complete that will open the content on the 1st January 2022. 
     – December – pray and prepare for how you are going to approach the New Year. 
     – January – all Bible Journey people start together.  There will be a back-office dashboard to track all attendance and there will be some check-in sessions to help everyone keep with the programme. 
I would encourage everyone in River of Life to consider how The Lord is leading them to grow in their knowledge of God's word. Everyone's journey is different and I hope these ideas will help you in considering how to Build On The Rock.
Much love,
Scott